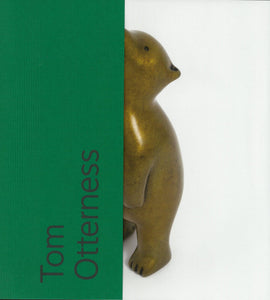 Artist: Tom Otterness
Title: Tom Otterness: Sculpture and Drawing; 1996-2017
Year: 2019
ISBN: 978-0-578-5586-0
Publisher: Marlborough Gallery, Inc.
Book Format: Paperback, 12 x 12 inches, 80 pages, 37 color plates
Marlborough Gallery presents Tom Otterness: Sculpture and Drawing; 1996-2017, a comprehensive exhibition of work by the artist Tom Otterness. The exhibition consists of forty sculptures as well as several works on paper and includes key works created by the artist over the past twenty-three years.
Otterness's well-known and endlessly inventive sculptural creations have made him one of the most popular American artists of the day. His signature figures—Cones, Spheres, and Cylinders—are presented in a wide range of sculptural situations. The shapes have the effect of universalizing form yet are remarkably expressive. Each is recognizably his own creation and at the same time reflective of art history, fables, allegories or current events.
The illustrated catalogue features thirty-seven color plates of small, medium, and large scale works by Otterness.
Tom Otterness was born in Wichita, Kansas in 1952. By 1970 he had arrived in New York to attend the Art Students League, followed by The Independent Study Program at the Whitney Museum of American Art. Otterness redefines the tradition of cast bronze figurative sculpture by using whimsical cartoon-like figures to make critical commentaries on political and social issues. Not only do his sculptures vary in size from colossal to minute, they also address a wide range of emotions and experiences. Their placement in parks, subway stations, and other public areas around the country allow the works to be appreciated by people from all walks of life. Otterness's combination of unforeseen subject matter and fanciful characters makes his work universally appealing.

Otterness works primarily in bronze sculpture, but his ideas have been realized on paper in the form of drawings and etchings. Through his unique, simplified forms and use of dynamic lines and cross-hatching, Otterness maintains the bold, whimsical character and commentary of his sculptural work in his etchings. He currently lives and works in New York City.
Otterness has received a number of public commissions across the United States and abroad, and he is represented in many public collections including the Brooklyn Museum of Art, Brooklyn, New York; Dallas Museum of Art, Dallas, Texas; Solomon R. Guggenheim Museum, New York, New York; Israel Museum, Jerusalem, Israel; IVAM Center Julio Gonzalez, Valencia, Spain; Museo Tamayo, Mexico City, Mexico; Museum of Modern Art, New York, New York; San Francisco Museum of Modern Art, San Francisco, California; and the Whitney Museum of American Art, New York, New York.