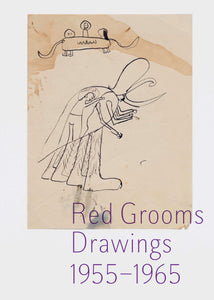 This catalogue of drawings by famed New York artist, Red Grooms, is published on the occasion of Red Grooms: Handiwork, 1955-2018, curated by Dan Nadel. Best known for his immersive installations, this exhibition focuses on Grooms' more intimate, though equally wide-ranging work in drawing, painting, and sculpture and reveals him to be a one-man movement whose vision of art and culture is broad, democratic, and joyous. These years are chronicled in the artist's early drawings and paintings, each a self-contained work of expressive mark making, observation, humor, and all-out fantasy influenced by artists such as Lester Johnson and Fairfield Porter, and the cartoonist Bill Holman. These works exist, as Grooms himself did, just at the intersection of the abstract 1950s and the pop 1960s, and document the artist finding his voice and community. The book includes an essay by the show's curator, Dan Nadel.
Artist: Red Grooms
Title: Red Grooms: Drawings 1955–1965
Essay: Dan Nadel
Year: 2019
ISBN: 978-0-692-16207-1
Publisher: Marlborough Gallery, Inc.
Book Format: Softcover, 14 x 10 in., 38 color plates