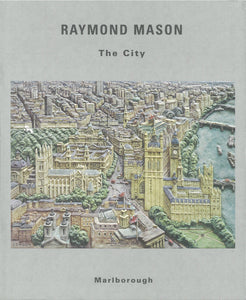 Artist: Raymond Mason 
Title: Raymond Mason: The City
Year: 1999
ISBN: 0-89797-161-2 
Publisher: Marlborough Gallery, Inc. 
Book Format: Softcover, 11 5/8 x 9 5/8 inches, 11 pages, 7 color plates
Born in Birmingham in 1922. Studied painting at Birmingham College of Arts and Crafts (1937-39) and, after shortened war service, at the Slade School of Art (1943-46). In 1946 he moved to Paris where, although already a gifted draughtsman, meeting and befriending Giacometti persuaded him to turn to sculpture. Over a lifetime in Paris he would get to know several of the most interesting artists, such as Brancusi, Picasso, Cocteau, Cartier-Bresson, Malraux – many memorialised in his light-hearted memoir 'At Work in Paris' (Thames & Hudson, 2003). Mason died in 2010.
 His lifelong subject would be life in the street, portrayed with directness, humour and a particular gift for characterisation. His originality lay in the creation of deep-relief tableaux in an up-to-date translation of the spirit of William Hogarth and Stanley Spenser. His medium was plaster, polychromed, later occasionally resin, as in 'The Crowd' (1965), 'The Departure of Fruit and Vegetables from the Heart of Paris' (1969-71, commemorating the closure of Les Halles), 'A tragedy in the North: Winter, Rain, Tears' (1975-77, a Zola-esque subject) and 'Forward' (1991, for Birmingham's Centenary Square, later destroyed by arson). Occasionally, studies were done in ink or watercolour before or after the sculptures.
He was early taken on by the Beaux-Arts Gallery in London, and later exhibited regularly with Claude Bernard in Paris and Pierre Matisse in New York. Retrospectives were held at the Serpentine Gallery, London, and the Museum of Modern Art, Oxford, in 1982, and at the Fondation Dina Vierny-Musée Maillol in 2000. In 1989 Birmingham's Museum and Art Gallery organised a major touring exhibition which was seen at the Manchester City Art Gallery and at Edinburgh's City Art Centre. He was named Chevalier de l'Ordre des Arts et des Lettres in 1978, and received an O.B.E. in 2002.