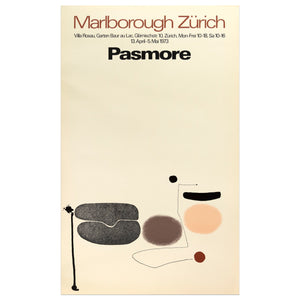 Artist: Victor Pasmore
Title: Marlborough Zurich, 1973

Poster Format: 28 x 17 1/2 inches
Victor Pasmore was born in 1908 in Chelsham, Surrey, England. He attended Harrow Art School, where he was particularly interested in landscape painting and French Impressionism. Upon moving to London in 1927, Pasmore was employed by the Public Health Department and took evening classes at the Central School of Arts and Design. In 1938, he was recognized by Kenneth Clark, the director of the National Gallery, whose support allowed Pasmore to leave his office job and pursue art full-time. 
As his career progressed, Pasmore increasingly deviated from fauvist and cubist modes of representation, and by 1948, he had rejected iconic representation altogether for the exploration of purely abstract form. His work with printmaking began later, in the late 1960s, during which time he continued to work with abstraction. Pasmore's combination of willful line and amorphous shapes has enabled him to capture the nature of abstract art and to create magnificent examples of constructivist simplicity.
Pasmore represented Britain at the Venice Biennale in 1960, and his work has been widely exhibited across the globe. His work is part of several public collections including the British Council, London, England; Manchester City Art Gallery, Manchester, England; Musée des Beaux-Arts, Bordeaux, France; Museum of Modern Art, New York, New York; Royal Academy of Arts, London, England; Tate Britain, London, England; and the Yale Center for British Art, New Haven, Connecticut.