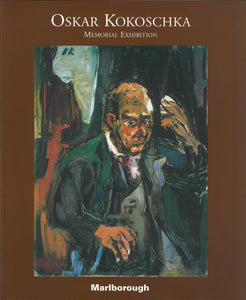 Artist: Oskar Kokoschka
Title: Oskar Kokoschka: Memorial Exhibition
Author(s): Johann Winkler
Year: 2001
ISBN: 0-89797-215-5 
Publisher: Marlborough Gallery, Inc. 
Book Format: Softcover, 11 5/8 x 9 5/8 inches, 63 pages, 42 color plates
Oskar Kokoschka (1 March 1886 – 22 February 1980) was an Austrian artist, poet and playwright best known for his intense expressionistic portraits and landscapes. He was second child to Gustav Josef Kokoschka, a Czech goldsmith, and Maria Romana Kokoschka (née Loidl). His older brother died in infancy in 1887; he had a sister, Berta (born in 1889) and a brother, Bohuslav (born in 1892). Oskar had a strong belief in omens, spurred by a story of a fire breaking out in Pöchlarn shortly after his mother gave birth to him. Kokoschka's life was not easy mainly due to a lack of financial help from his father. They constantly moved into smaller flats, farther and farther from the thriving center of the town. Concluding that his father was inadequate, Kokoschka drew closer to his mother.
Among Kokoschka's early works were gesture drawings of children, which portrayed them as awkward and corpse-like. Kokoschka had no formal training in painting and so approached the medium without regard to the "traditional" or "correct" way to paint. The teachers at Kunstgewerbeschule helped Kokoschka gain opportunities through the Wiener Werkstätte or Viennese Workshops. Kokoschka's first commissions were postcards and drawings for children. Kokoschka said that it gave him "the basis of [his] artistic training".[1] His early career was marked by portraits of Viennese celebrities, painted in a nervously animated style.
He volunteered for service as a cavalryman in the Austrian army in World War I, and in 1915 was seriously wounded. At the hospital, the doctors decided that he was mentally unstable. Nevertheless, he continued to develop his career as an artist, traveling across Europe and painting the landscape.