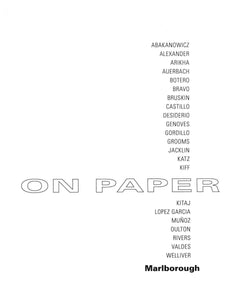 Title: On Paper

Year: 1992
ISBN: 0-89797-078-0
Publisher: Marlborough Gallery, Inc. 
Book Format: Paperback, 11 5/8 x 9 5/8 inches, 46 pages, 29 color plates 
Marlborough Gallery presents the exhibition On Paper, which includes over 100 drawings spanning 150 years, from 1817-1998. An array of artists is featured, including Auerbach, Degas, Delacroix, Giacometti, Hartley, Klimt, Leger, Nolde, Pollock, Redon, Reinhardt, Rivers, and Tobey, among others. Accompanying the exhibition is a fully illustrated catalogue which includes twenty-nine color plates of works by each artist in the exhibition.