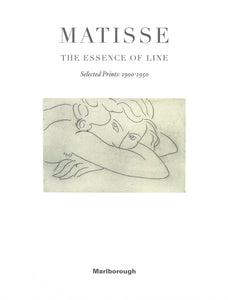 Artist: Henri Matisse
Title: Matisse: The Essence of Line, Selected Prints: 1900-1950 
Year: 2013
ISBN: 978-0-89797-453-0 
Publisher: Marlborough Gallery, Inc. 
Book Format: Softcover, 10 5/8 x 8 inches, 170 pages, 81 color plates
"One must always search for the desire of the line, where it wishes to enter or where to die away. Also always be sure of its source; this must be done from the model."
This exhibition, which spans a half century of printmaking by Henri Matisse, comprises over 80 prints, many of which are rare examples in various graphic media: etching, drypoint, woodcut, lithography, linocut, and pochoir.  
Born in 1869, Henri Matisse was a French artist who worked in mediums including paint, print, sculpture, drawing, and collage. Although he first moved to Paris in 1887 to study law, he began painting and his love of art bloomed shortly after. He is famous for his use of vibrant color and dramatic brush strokes. 
Matisse, along with Andre Derain, was a leader of the Fauvist style. This style was known for its use of vibrant, yet often inaccurate, use of color to depict subjects, mostly women. Brushstrokes are visible to the naked eye and increase the drama of the works.
When the Fauvist movement began to lose momentum in the 1910's, Matisse's style evolved. His works from this period still continued to incorporate dramatic color, but with greater attention paid to the background and ornamental elements. After meeting Pablo Picasso for the first time in 1906, the two became both friends and artistic competitors. Still life and women were their most common subject matter, but where Matisse's style diverged most from Picasso's was that it was influenced by reality, as opposed to Picasso's use of imagination.
Matisse's prints often incorporate sensual and suggestive depictions of the female figure. He found drawing to be a very intimate act and produced his drawings in a swift and gestural manner. Additional influences include subject matter from Oceania and the Caribbean.
During World War II, Matisse remained in France. During these years he began to make his famous cut-outs. He would cut out shapes from pre-painted sheets and arrange them into various designs creating vibrantly colored collages.