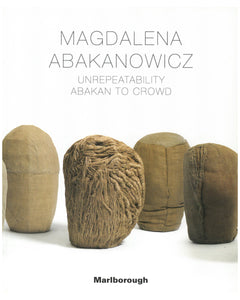 Artist: Magdalena Abakanowicz
Title: Magdalena Abakanowicz: Unrepeatability Abakan to Crowd
Authors: Mary Jane Jacob, Joseph Antenucci Becherer, Juan Manuel Bonet, Michael Brenson, David R. Collens, James Demetrion, Giuliano Gori, Agnes Gund, Eleanor Heartney, Mariusz Hermansdorfer, Donald Hess, Gintaras Karosas, Suzanne Landau, Jack Lenor Larsen, Frances Morris, Peter Murray, Elyn Y. Park, Barbara Rose, Jeremy Strick, Milada Slizinska, Yuso Takezawa, and Angela Vettese

Year: 2015
ISBN: 978-0897974837
Publisher: Marlborough Gallery, Inc. 
Book Format: Paperback, 11 5/8 x 9 5/8 inches, 112 pages, 83 plates
Marlborough's Unrepeatability Abakan to Crowd falls on the occasion of the 85th birthday of the Polish sculptor, Magdalena Abakanowicz, curated by Mary Jane Jacob. Featuring a survey of works created from 1973 to 2006, the exhibition presents a wide range of fiber artworks by the world renowned sculptor on view from September 16 to October 17, 2015. The fully illustrated catalogue includes an essay by Jacob, along with contributions from: Joseph Antenucci Becherer, Juan Manuel Bonet, Michael Brenson, David R. Collens, James Demetrion, Giuliano Gori, Agnes Gund, Eleanor Heartney, Mariusz Hermansdorfer, Donald Hess, Gintaras Karosas, Suzanne Landau, Jack Lenor Larsen, Frances Morris, Peter Murray, Elyn Y. Park, Barbara Rose, Jeremy Strick, Milada Slizinska, Yuso Takezawa, and Angela Vettese.
"I feel overawed by quantity where counting no longer makes sense. By unrepeatability within such a quantity. By creatures of nature gathered in herds, droves, species in which each individual, while subservient to the mass retains some distinguishing features…" —Magdalena Abakanowicz
Born near Warsaw, Poland in 1930, this textile artist, known principally for her large-scale sculptures and installations, is also a painter and printmaker. Abakanowicz witnessed the horrors of the Nazi occupation, the Warsaw uprising, and later lived in the grim economic conditions of Communist Poland. In the midst of these hardships and limitations, she was able to transform natural and found materials into expressive art. This gift became a distinguishing characteristic of her work, and her experiences continue to shape the themes she explores in her art.
Originally creating abstract pieces, Abakanowicz has moved to figurative work. Whether two or three-dimensional, she uses the minimum amount of detail necessary to create associations for the viewer, but keeps the works open for individual interpretation. Her pieces refer to patterns and complexity in nature as well as nature's ability to destroy and reinvent. Having made separate series of works focusing on torsos, backs, brains, and faces, much of her art focuses on isolated parts of the human body. Abakanowicz creates a junction where primitive and contemporary, dead and alive, and physical and spiritual meet. Her vast artistic achievements carry with them the intensity of her cultural history and her drive to move forward from the adversity she has faced.
The work of Abakanowicz can be found in collections worldwide including the Australian National Gallery of Art, Canberra, Australia; Center for Contemporary Art, Warsaw, Poland; Jardin des Tuileries, Paris, France; Centre Georges Pompidou, Musee National d'Art Moderne, Paris, France; Giuliano Gori Collection, Fattoria di Celle, Santomato di Pistoia, Italy; Israel Museum, Jerusalem, Israel; Ludwig Museum, Cologne, Germany; Storm King Art Center, Mountainville, New York; The Metropolitan Museum of Art, New York; Museum of Modern Art, New York; National Gallery of Art, Washington, D.C.; Sezon Museum, Tokyo, Japan; Tate Modern, London, England; and the Sun Jeu Museum, South Korea.