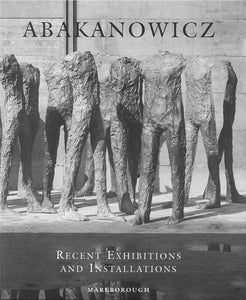 Artist: Magdalena Abakanowicz
Title: Magdalena Abakanowicz: Recent Exhibitions and Installations
Author: Jasia Reichardt
Year: 2000
ISBN: 0-89797-157-4 
Publisher: Marlborough Gallery, Inc.
Book Format: Softcover, 11 5/8 x 9 5/8 inches, 39 pages, 33 color plates
Born near Warsaw, Poland in 1930, this textile artist principally known for her sculpture was also a painter and printmaker. Abakanowicz witnessed the horrors of the Nazi occupation, the Warsaw uprising, and later lived in the grim economic conditions of Communist Poland. When confronted by these events, Abakanowicz was able to transform natural and found materials into expressive art. This gift became a distinguishing characteristic of her work, and her experiences continue to shape the themes she explores in her art.
Originally creating abstract pieces, Abakanowicz transitioned to figurative work. Whether two or three-dimensional, she used the minimum amount of detail necessary to create associations for the viewer, but kept the works open for individual interpretation. Her pieces refer to patterns and complexity in nature as well as nature's ability to destroy and reinvent. Having made separate series of works focusing on torsos, backs, brains, and faces, much of her art focuses on isolated parts of the human body. Abakanowicz created a junction where primitive and contemporary, dead and alive, and physical and spiritual meet. Her vast artistic achievements carry with them the intensity of her cultural history and her drive to move forward from the adversity she has faced.
Magdalena Abakanowicz has had over 150 solo exhibitions in Europe, North and South America, Japan, South Korea, and Australia. She has exhibited at the Metropolitan Museum of Art in New York, the Jardins du Palais Royal in Paris, and the Muzeum Narodowe in Poznań. Her most recent solo exhibit ions include the Palacio de Cristal, Museo Nacional Centro de Arte Reina Sofía, Madrid and Instituto Valenciano de Arte Moderno (IVAM), Valencia, both in 2008, and the Fondazione Arnaldo Pomodoro, Milan, in 2009. Several works were exhibited in the Energy and Process wing at the Tate Modern for the duration of 2010, and her survey The Human Adventure was exhibited at the Akbank Art Center, Istanbul, in 2013.
Much has been written about Abakanowicz's life, how she emerged as an artist from war torn Poland, and her unique vision. Writers have commented on her distinct sculptural vocabulary, its original use of materials and figurative form. Her work is capable of invoking deep feelings and can reach into a timeless, mythic quality. Robers Hughes in Time magazine referred to its "dark vision of primal myth" and Barbara Rose, in her monograph, Magdalena Abakanowicz (Abrams, 1994) wrote the artist is "a shaman who receives and transmits messages in visual language that is more universal than words."