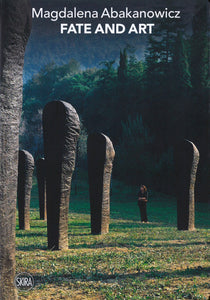 Artist: Magdalena Abakanowicz
Title: Magdalena Abakanowicz: Fate and Art
Author: Magdalena Abakanowicz
Editor: Paola Gribaudo

Editorial Coordination: Mary Jane Jacob
Publisher: Skira

Year: 2020
ISBN: 978-8857243955 
Format: Paperback, 9 5/8 x 6 ¾, 304 pages, 209 color plates
The illustrated autobiography of the pioneering Polish sculptor, whose organic installations explored the politics of space in presciently fresh ways 
One of Poland's most famous artists, Magdalena Abakanowicz (1930-2017) revolutionized the use of textile as a sculptural medium with the creation of her 1967 Akabans series consisting of enormous woven structures. In the next two decades of her career, the artist moved more towards representational sculpture, crafting dozens of headless humanoid figures out of wood, burlap and synthetic resin. These figures were then gathered in imposing groups as part of the Crowds series, her meditation on public spaces and how human beings occupy them. In addition to her numerous three-dimensional endeavors, which include an arboreal architecture project in Paris, Abakanowicz was a painter and a choreographer.

Published at a moment of considerable renewed focus on the artist, this autobiography narrated her groundbreaking career for the first time.
Born near Warsaw, Poland in 1930, this textile artist, known principally for her large-scale sculptures and installations, is also a painter and printmaker. Abakanowicz witnessed the horrors of the Nazi occupation, the Warsaw uprising, and later lived in the grim economic conditions of Communist Poland. In the midst of these hardships and limitations, she was able to transform natural and found materials into expressive art. This gift became a distinguishing characteristic of her work, and her experiences continue to shape the themes she explores in her art.

Originally creating abstract pieces, Abakanowicz has moved to figurative work. Whether two or three-dimensional, she uses the minimum amount of detail necessary to create associations for the viewer, but keeps the works open for individual interpretation. Her pieces refer to patterns and complexity in nature as well as nature's ability to destroy and reinvent. Having made separate series of works focusing on torsos, backs, brains, and faces, much of her art focuses on isolated parts of the human body. Abakanowicz creates a junction where primitive and contemporary, dead and alive, and physical and spiritual meet. Her vast artistic achievements carry with them the intensity of her cultural history and her drive to move forward from the adversity she has faced.
The work of Abakanowicz can be found in collections worldwide including the Australian National Gallery of Art, Canberra, Australia; Center for Contemporary Art, Warsaw, Poland; Jardin des Tuileries, Paris, France; Centre Georges Pompidou, Musee National d'Art Moderne, Paris, France; Giuliano Gori Collection, Fattoria di Celle, Santomato di Pistoia, Italy; Israel Museum, Jerusalem, Israel; Ludwig Museum, Cologne, Germany; Storm King Art Center, Mountainville, New York; The Metropolitan Museum of Art, New York; Museum of Modern Art, New York; National Gallery of Art, Washington, D.C.; Sezon Museum, Tokyo, Japan; Tate Modern, London, England; and the Sun Jeu Museum, South Korea.