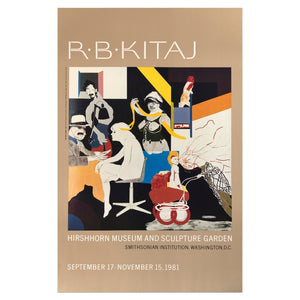 Artist: R.B. Kitaj
Title: Hirshorn Museum 1985

Poster Format: 35 x 23 inches
R.B. Kitaj was born in Cleveland, Ohio in 1932, and as attended art classes as a child at the Cleveland Museum of Art. Following his studies at Cooper Union in New York and the Academy of Fine Arts in Vienna, he spent two years in Europe serving for the United States Army. He then continued his studies at the Ruskin School of Art at Oxford University and the Royal College of Art in London. Kitaj remained in Europe, living for 40 years in London, until 1997 when he moved to Los Angeles. Kitaj died in his home there in 2007, a week before his 75th birthday.
Though widely considered a Pop artist, Kitaj has limited interest in the culture of mass media and instead works from pictorial and literary sources. Renowned for his use of art historical references, Kitaj's work is often inspired by late 19th-century French art and his Jewish identity. His paintings and prints add up to an extraordinary body of work, with his prints functioning as an illustrated journal of an artist's life, characterized by a quest for new subject matter and innovative ways to depict it. Kitaj remains one of the most influential artists since the late 1950s and continues to link personal history with contemporary art through his unique vision.
Kitaj's work is included in numerous public collections including the British Museum, London, England; Cleveland Museum of Art, Cleveland, Ohio; Astrup Fearnley Museet for Moderne Kunst, Oslo; Israel Museum, Jerusalem, Israel; Kunstmuseum, Düsseldorf, Germany; The Metropolitan Museum of Art, New York; Musée National d'Art Moderne, Centre Georges Pompidou, Paris, France; Museo Nacional Centro de Arte Reina Sofia and the Collection Thyssen-Bornemisza, Madrid, Spain; Museum Ludwig, Cologne, Germany; Museum of Modern Art, New York; Tate Modern, London, England; and the Whitney Museum of American Art, New York.