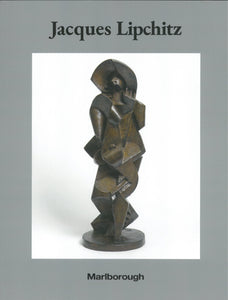 Artist: Jacques Lipchitz
Title: Jacques Lipchitz: The Paris Years; Sculptures and Drawings 1911-1932
Author: Kosme de Barañano
Year: 2019
ISBN: 978-089797516-2 
Publisher: Marlborough Gallery, Inc. 
Book Format: Softcover, 12 1/8 x 9 5/8 inches, 75 pages, 68 color plates
Jacques Lipchitz was born in Druskieniki, Lithuania in 1891. He moved to Paris in 1909 as a student to learn stonecutting, studying at the Ecole des Beaux-Arts and the Académie Julian.  During the period he explored the boundary between figuration and complete abstraction.  Later in his career he frequently based his imagery upon mythological and liturgical texts. Lipchitz eventually settled in the United States in 1941, and throughout his long and prolific career developed an extraordinary range of stylistic and iconographic diversity.
Lipchitz was one of the major figures in Paris when the principles of cubism were being formulated. Tremendously influenced by Picasso's revolutionary ideas, Lipchitz's iconographic sculptures were the three-dimensional counterpart of Picasso's paintings. This connection placed Lipchitz in a category often referred to as "the essential Cubists." In addition to being widely known as a cubist sculptor, Lipchitz explored his subjects in both representational and nonrepresentational styles, including the Abstract Expressionist technique. The boldness and diversity that characterize Lipchitz's sculptures carry over to his prints as well. These traits, in combination with a dynamic use of color, create the signature style of this twentieth-century master.
Lipchitz's works are included in numerous pubic collections worldwide including Centro Museo de Arte Reina Sofía, Madrid, Spain; Hamburger Kunsthalle, Hamburg, Germany; Hirshhorn Museum and Sculpture Garden, Washington, D.C.; Kunstmuseum Basel, Basel, Switzerland; Musee des Beaux-Arts, Nancy, France; The Metropolitan Museum of Art, New York, New York; Museum of Modern Art, New York; National Gallery of Art, Washington, D.C.; Phillips Collection, Washington, D.C.; San Francisco Museum of Modern Art, San Francisco, California; Tate Gallery, London, England; Scottish National Gallery of Modern Art, Edinburgh, Scotland; Solomon R. Guggenheim Museum, New York, New York; Galleria Nazionale d'Arte Moderna, Rome, Italy; Tel Aviv Museum of Art, Tel Aviv, Israel; Tokushima Modern Art Museum, Tokushima, Japan; and the Whitney Museum of American Art, New York.