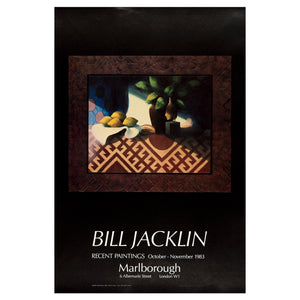 Artist: Bill Jacklin
Title: Recent Paintings (B), 1983, Marlborough London
Poster Format: 30 x 20 inches 
Born in 1943 and raised in London, Bill Jacklin attended the Royal College of Art, was inducted into the prestigious Royal Academy of Art in 1989, and was elected Royal Academician in 1991. Jacklin initially worked with abstraction, but as his interest shifted toward studies of light and movement, he began to work figuratively. His residual abstract tendencies are present in his figurative works; his crowded city landscapes often appear as patterns of light and darkness, both remote and familiar.
Jacklin does not make prints regularly, but has occasionally focused on monotypes. When he returns to etching, he does not simply readjust to the medium, but searches for something new from the process each time.  He says that he does not start with a composition in mind, but rather he "has a black plate and floods the light in." In recent monotypes, he has added an aquatint to his monoprint plate, giving added depth to his powerful monochromatic images. This new creative process led to an exceptional series of colored monotypes and new etchings.
Jacklin's work is in collections worldwide, including: the Arts Council of Great Britain, London, England; Art Gallery of New South Wales, Sydney, Australia; British Museum, London, England; Irish Art Council, Dublin Isle of Man Arts Council, Ireland; Jane Voorhees Zimmerli Art Museum, Rutgers University, New Brunswick, New Jersey; The Metropolitan Museum of Art, New York, New York; Museum of Modern Art, New York, New York; Museum Boymans-van-Beuningen, Rotterdam, The Netherlands; Tate Britain, London, England; Thyssen-Bornemisza Foundation, Castagnola, Switzerland; Victoria and Albert Museum, London, England; and the Yale Center for British Art, New Haven, Connecticut.