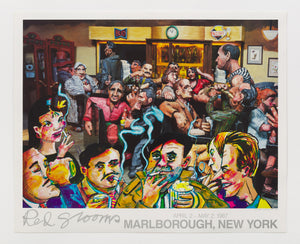 Artist: Red Grooms
Title: Marlborough, New York, April 2 - May 2, 1987
Poster Format: 26 x 30 inches
Red Grooms was born in Nashville, Tennessee in 1937. He studied at the Art Institute of Chicago and the New School for Social Research in New York. In the 1950's Grooms moved to New York City permanently and immersed himself in the thriving art scene. For nearly fifty years, he has combined color, vibrancy, and a generous dose of self-deprecating humor to produce delightful and provocative art in all media.  He simultaneously pokes fun at the, and pays homage to, icons of American politics and entertainment, and the art world.  No artist since Honoré Daumier has had a greater understanding of humor or a more direct connection to his audience, who, in turn, lavish him with their appreciation and admiration.
As a painter, sculptor, printmaker, filmmaker, and theater designer, Grooms' career has thus far been prolific. His graphic works alone comprise an array of art forms, including etchings, lithographs (two- and three-dimensional), monotypes, woodblock prints, and spray-painted stencils. Throughout the late 1980's and the mid 1990's Grooms produced a series of whimsical prints and three-dimensional works called New York Stories, which detailed the everyday minutiae of his adopted city's daily grind. 
The artist's work can be found in museums and private collections worldwide, including: the Art Institute of Chicago, Chicago, Illinois; Fort Worth Museum of Contemporary Art. Fort Worth Texas; Hirshhorn Museum and Sculpture Garden, Washington, D.C.; The Metropolitan Museum of Art, New York, New York; Moderna Museet, Stockholm, Sweden; Museum of Contemporary Art, Los Angeles, California; Museum of Modern Art, New York, New York; and the Nagoya City Museum, Nagoya, Japan.