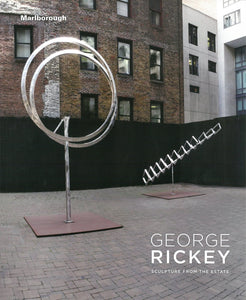 Artist: George Rickey
Title: George Rickey: Sculpture from the Estate
Author(s): Philip Rickey
Year: 2013
ISBN: 978-0-89797-455-4 
Publisher: Marlborough Gallery, Inc.
Book Format: Softcover, 11 5/8 x 9 1/2 inches, unpaginated, 25 color plates
Published in accompaniment with a major exhibition of works by George Rickey , on view at Marlborough  on September 12 and continue through October 12, 2013. From the private holdings of the George Rickey Estate, the exhibition covers the spectrum of Rickey's distinctive sculptural voice and offers further insight into his expansive creativity, as many of the pieces are on public view for the first time. The fully illustrated catalogue features an essay by the artist's son, Philip Rickey.