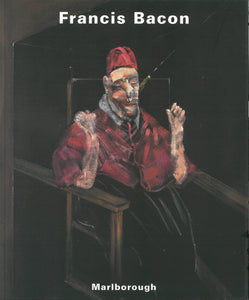 Artist: Francis Bacon
Title: Francis Bacon: Paintings 
Author(s): Robert Rosenblum
Year: 2002
ISBN: 0-89797-242-2 
Publisher: Marlborough Gallery, Inc.
Book Format: Softcover, 11 5/8 x 9 5/8 inches, 24 pages, 15 color plates
Born in Dublin, Ireland in 1909, this prominent British painter and printmaker created controversial art until his death in 1992. Despite the fact that he did not receive formal training, Bacon gained instantaneous recognition in 1945 after an exhibition at Lefevre Gallery in London that included his 1944 triptych Three Studies for Figures at the Base of a Crucifixion. Bacon's figures can be described as distorted, fleshy masses in anguish; these shocking and unsettling images are his representation of the evils and the devastation of the human condition. Bacon's oil paintings simultaneously repel and intrigue the viewer with their bold, grotesque figures. This paradox remains consistent with his print work, which he based on a selection of thirty-five of his own paintings dating from 1965-1991. Bacon worked with skilled printers to create his relatively small body of etchings and lithographs that total only about 40 editions.
In 2008 and 2009, a major retrospective of Bacon's paintings traveled to the Tate Britain, London, England (September 11, 2008- January 4, 2009), to the Museo Nacional del Prado, Madrid, Spain (February 3- April 19, 2009) and to the Metropolitan Museum of Art, New York (May 20- August 16, 2009). Bacon's works are permanently part of public collections around the world, including the Astrup Fearnley Museum, Oslo, Norway; Birmingham Museums & Art Gallery, Birmingham, England; Hirshhorn Museum and Sculpture Garden, Washington, D.C.; Museum of Modern Art, New York; Kunsthaus Zürich, Zurich, Switzerland; Museo de Arte Contemporáneo de Caracas Sofía Imbert, Caracas, Venezuela; Museo Nacional Centro de Arte Reina Sofía, Madrid, Spain; Museo Thyssen-Bornemisza, Madrid, Spain; Modern Art Museum of Fort Worth, Fort Worth, Texas; Peggy Guggenheim Collection, Venice, Italy; Sammlung Essl, Klosterneuburg, Austria; Sprengel Museum Hannover, Hannover, Germany; Stedelijk Museum voor Actuele Kunst, Gent, Belgium; Tate Britain, London, England; and the Tate Modern, London, England.