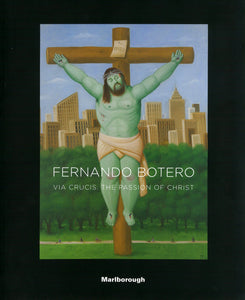 Artist: Fernando Botero
Title: Fernando Botero: Via Crucis; The Passion of Christ
Author: Text by Cristina Carrillo de Albornoz
Year: 2011
ISBN: 978-0897974233
Publisher: Marlborough Gallery, Inc.
Book Format: Paperback, 11 5/8 x 9 5/8 , 75 pages, 63 color plates
Marlborough Gallery presents an exhibition showing a new body of work from the world-renowned Colombian artist, Fernando Botero. The exhibition, running from October 27 through December 2, 2011, is comprised of paintings and drawings displayed scenes from the passion of Christ. Via Crucis: The Passion of Christ is Botero's first New York exhibition since 2006. The show consists of twenty-seven oils on canvas and thirty-four drawings in mixed media on paper. 
The fully illustrated catalogue accompanies the exhibition and is rich with 63 color plates of Botero's reinterpretation of Renaissance works. The catalogue also includes an essay from the author and curator Cristina Carrillo de Albornoz.