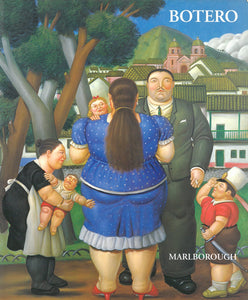 Artist: Fernando Botero
Title: Fernando Botero: Paintings
Year: 1996
ISBN: 0-89797-118-3
Publisher: Marlborough Gallery, Inc.
Book Format: Paperback, 11 5/8 x 9 3/4 inches, 70 pages, 34 color plates
This catalogue is published on the occasion of the exhibition Fernando Botero: Recent Paintings presented by Marlborough Gallery. The exhibition, comprised of thirty paintings, marks Botero's first painting exhibition in New York in over a decade.
Formally speaking, Botero's concerns are with curvilinear line and volumetric shape, what Werner Spies has called "an exaltation of form." Botero says, "What I do is volume - Men, women. animals, landscapes, objects, whatever. That full sensuous form. I believe in that." One could say that Botero's art is a symphony of curves resounding through forms in a monumental way and whose music breathes "a mythological aura." Botero's work is not about corpulence. To this point Botero has said, "The deformation you see is the result of my involvement with painting. The monumental. and in my eyes. sensually provocative volumes stem from this. Whether they appear fat or not does not interest me. It has hardly any meaning for my painting. My concern is with formal fullness, abundance."
The catalogue is fully illustrated features thirty-four color plates of Botero's paintings.