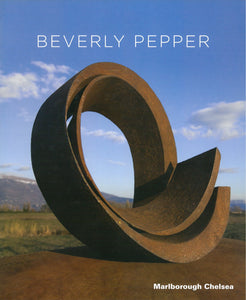 Artist: Beverly Pepper

Title: Beverly Pepper: Curvae in Curvae
Authors: Beverly Pepper, and a conversation with Henri Bergson, André Malraux, Walter Benjamin by Robert Hobbs 
Year: 2012
ISBN: 978-0-89797-436-3
Publisher: Marlborough Gallery, Inc.
Book Format: Paperback, 11 5/8 x 9 1/2 inches, 31 pages, 14 color plates
Beverly Pepper: Curvae in Curvae is published on the occasion of the exhibition Curvae in Curvae: New Sculptures by Beverly Pepper, presented by Marlborough Gallery. The exhibition is comprised of four monumental Core-ten steel sculptures ranging in height, a continuation of Pepper's interrogations on the theme of monumentality. 

The catalogue includes a text contribution by art historian and curator Robert Hobbs of a dialogue between Henri Bergson, André Malraux, Walter Benjamin by Robert Hobbs. The catalogue also features a contribution from Beverly Pepper.