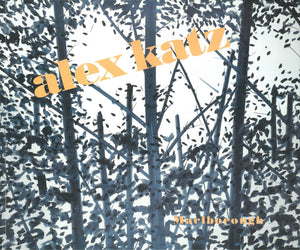 Artist: Alex Katz 
Title: Alex Katz: Recent Paintings 
Year: 1996
ISBN: 978-0897971157 
Publisher: Marlborough Gallery, Inc.
Book Format: Softcover, 9 3/4 x 11 5/8 inches, 26 pages, 16 color plates
The internationally recognized painter and printmaker Alex Katz was born in 1927 in Brooklyn, New York. Over a thirty-year period he has produced an outstanding oeuvre including large-scale portrait paintings, woodcuts, etchings and linocuts. Using smooth, glossy planes of color to create representational images, Katz's work has immediate connections to both reality and the artificial.
Katz elevates elements of uneventful daily life by transferring them to the canvas or the etching plate, but he makes no statements or judgments concerning his subjects. He creates iconographic images by generalizing the features of a sitter or a landscape, making them familiar to all viewers. By removing emotional content, the focus of the work becomes the formal properties of light, scale, and color. His use of simplified and shallow visual spaces places him among abstract artists, but he is most recognized for his unique representational vision.
 The work of Alex Katz is included in the collections of many museums including the Art Institute of Chicago, Chicago, Illinois; Hirshhorn Museum and Sculpture Garden, Washington, D.C.; The Metropolitan Museum of Art, New York, New York; Metropolitan Museum of Art, Tokyo, Japan; Museum of Modern Art, New York, New York; National Portrait Gallery, Washington, D.C.; Saatchi Collection, London, England; and the Whitney Museum of American Art, New York, New York.