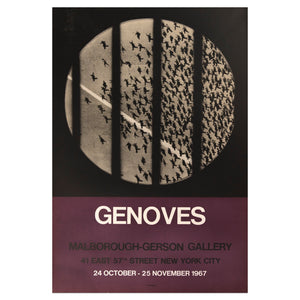 Artist: Juan Genoves
Title: Marlborough-Gerson Gallery, 1967

Poster Format: 30 x 20 inches
Born in Valencia in 1930, Genovés is one of Spain's best-known contemporary artists, and he is recognized for an aesthetic style rooted in Social Realism and Pop, with a distinctly critical voice that became a force for political change during the Franco regime in Spain.
As a child in Valencia, Genovés witnessed the violence and horrors of the Spanish Civil War: bombardments, death squads, neighborhoods silenced with wounded and dead citizens. As leftist Republicans, he and his family endured the rule of the Nationalist party. In 1958 he settled permanently in Madrid and joined Marlborough Gallery in 1966. In 1976, he was detained and held in solitary confinement for seven days for having made a poster demanding amnesty for political prisoners. Throughout the 1980s, Genovés began to focus increasingly on artistic activities and peace efforts, while exhibiting both internationally and in Spain. A member of the Image Collective of the Spanish Communist Party during the 1970s, he played a role in the recovery of Spain's democracy and his work became a symbol of Catalan pride.
Genovés' art repeatedly addresses two subjects: the "alone individual" and the "multitude," working with flat inks and plastic structures with a distinct cinematic quality. Many of his works explore the concept of the multitude, where the collective body of humanity is pulled toward something greater than the individual. These works depict bird's-eye views of empty landscapes devoid of buildings, roads, trees or any context clues, creating a sense of anxiety and dislocation.
Genovés' work is found in many of the most important public collections in the United States and Europe, including: The Art Institute of Chicago, Chicago, IL; Centre National d'Art Contemporain, Paris, France; Galeria Nazionale d'Arte Moderna, Rome, Italy; The Museum of Modern Art and The Guggenheim Museum, both in New York; Museo Nacional Centro de Arte Reina Sofía, Madrid, Spain; Israel Museum, Jerusalem; IVAM, Valencia, Spain; Musees Royaux des Beaux-Arts de Belgique, Brussels, Belgium.