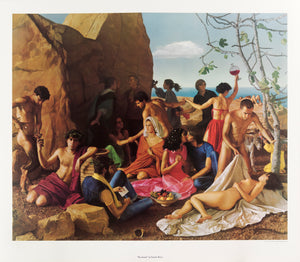 Artist: Claudio Bravo
Title: The Bacchanal
Poster Format: 30 x 34 1/2 inches, signed version available
Born in Chile in 1936, Claudio Bravo lived and worked in Tangier, Morocco starting in 1972.  The artist first established himself in Madrid in the 1960's as a society portraitist, gaining recognition for the astounding verisimilitude and technical virtuosity of his work.  Demonstrating mastery in all techniques and mediums on paper, his superior draftsmanship closely resembles the style of the Renaissance-Baroque tradition.  Bravo's ability to depict creases, indentations and folds in his still life work is reminiscent of Spanish masters such as Zurbarán and Velázquez.
Throughout his career, Bravo continued to create figurative paintings, drawings, and prints, with his exceptional ability to give life to mundane objects remaining unparalleled.  The same warmth and detail imbued in his oil paintings are also found in his lithographs, the most recent of which feature animals and animal skulls native to his home in Morocco. Bravo died on June 4, 2011.
Works by Claudio Bravo are included in the collections of the Baltimore Museum of Art, Baltimore, Maryland; The Metropolitan Museum of Art, New York; Museo Nacional de Bellas Artes, Santiago, Chile; Rufino Tamayo Museum of International Contemporary Art, Mexico City, Mexico; Museum Boymans-van Beuningen, Rotterdam, The Netherlands; Museum of Modern Art, New York; Peter Ludwig Museum, Cologne, Germany; The Museum of Fine Arts, Boston, Massachusetts; and the Philadelphia Museum of Art, Philadelphia, Pennsylvania.