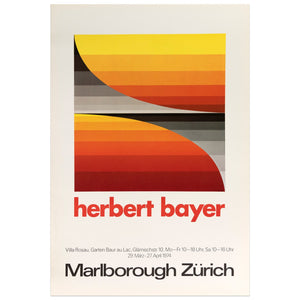 Artist: Herbert Bayer
Title: Marlborough Zurich, 1974

Poster Format: 25 x 17 3/4 inches
Herbert Bayer was an Austrian and American graphic designer, painter, photographer, sculptor, art director , environmental and interior designer, and architect. He was born in 1900 and died in 1985, at the age of 95. Bayer apprenticed under the artist Georg Schmidthammer in Linz. Leaving the workshop to study at the Darmstadt Artists' Colony, he became interested in Walter Gropius's Bauhaus manifesto. After Bayer had studied for four years at the Bauhaus under such teachers as Wassily Kandinsky, Paul Klee and László Moholy-Nagy, Gropius appointed Bayer director of printing and advertising. 
In 1928, Bayer left the Bauhaus to become art director of Vogue magazine's Berlin office. He remained in Germany far later than most other progressives. In 1936 he designed a brochure for the Deutschland Ausstellung, an exhibition for tourists in Berlin during the 1936 Olympic Games - the brochure celebrated life in the Third Reich, and the authority of Hitler. However, in 1937, works of Bayer's were included in the Nazi propaganda exhibition "Degenerate Art", upon which he left Germany. Upon fleeing Germany, he traveled in Italy.
In 1946 the Bayers relocated from New York. Hired by industrialist and visionary Walter Paepcke, Bayer moved to Aspen, Colorado as Paepcke promoted skiing as a popular sport. Bayer's architectural work in the town included co-designing the Aspen Institute and restoring the Wheeler Opera House, but his production of promotional posters identified skiing with wit, excitement, and glamour.
Bayer's works appear in prominent public and private collections including the MIT List Visual Arts Center. Bayer designed the Mill Creek Canyon Earthworks, an environmental sculpture located in Kent, Washington.