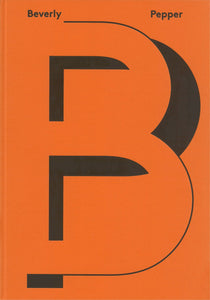 Artist: Beverly Pepper
Title: Beverly Pepper: Cor-Ten
Author: Mary Jane Jacob 
Year: 2019 

Publisher: Marlborough Gallery, Inc.
Book Format: Hardcover, 13 5/8 x 9 1/2 inches, 75 pages
"I create work to discover it. To make its acquaintance. To sculpt a space. A sudden, energetic space." -Beverly Pepper 
Marlborough is pleased to present Cor-Ten a solo exhibition of recent monumental works in steel by the celebrated sculptor Beverly Pepper at the gallery's 25th Street location. Pepper, at 96 years of age, has returned to Cor-Ten steel which she pioneered as a sculptural material
in the early 1970s. Cor-Ten, a trademarked steel alloy developed by US Steel, a famously dramatic and weather resistant medium, its exterior oxidization providing both a protective weather barrier and a rich surface of dramatic color variations. Pepper has managed over the past 50 years to enlist this rugged material in an evolving series of powerfully expressive sculptures that have captivated public and private audiences around the world. These works, with their complex overlapping and intersecting curves, push the envelope of material capability. They speak to a freedom in the use of expressive forms reflective of a clear, mature vision. 
The artist's sculptures develop over months and often years, starting from free spontaneous drawings then working into rigorous preparatory drawings followed by precisely scaled models. This developmental progression ensures that the large-scale works advance the spontaneity of the original concept. Pepper continues to work "hands on" with her long-term fabricator in Assisi, Italy, creating fully realized sculptures that preserve her signature energy and economy of form. Works such as Broken Circle and Double Palimpsest are both muscular and elegant and project a quite contained energy, while Medea spirals laterally with a suggestion of the artists spontaneous drawings. Each of the six sculptures tackle another facet of the Cor-Ten, pushing the steel's physical tolerances and exploiting its surface dynamics. 
Hailing from an era when women artists were routinely ignored, and where very few women worked in industrial materials, Pepper's contribution is especially significant. That she has managed to persevere and to thrive–with dozens of major public works and pieces in numerous international museums and private collections—is testament to her personal strength and the enduring power of her sculpture. 
Born in 1922 in Brooklyn, Pepper trained to as a painter with Fernand Leger and André Lhote in Paris. After a trip to Angkor Wat in 1960 she turned to sculpture. In 1962 along with David Smith and Alexander Calder she participated in the landmark exhibition, Sculture Nella Cittá, in Spoleto, Italy. In addition to a lifetime of gallery exhibitions, she has had numerous solo museum shows, among them those at the Albright-Knox Art Gallery, The Brooklyn Museum, the San Francisco Museum of Art and the Ara Pacis Museum in Rome. Pepper has worked extensively with public sites creating numerous land-art works and monumental iron sculptures in the United States, as well as in Europe and Asia. In Italy she has inaugurated an open- air theatre of 3.000 square meters in 2018 and she is currently working on the Beverly Pepper Park, the first mono thematic park of contemporary sculpture of the artist in the world.