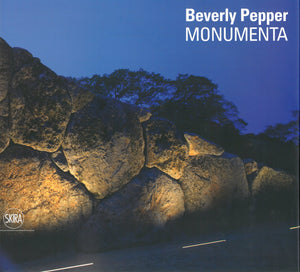 Artist: Beverly Pepper 
Title: Beverly Pepper: Monumenta 
Author: Robert Hobbs
Editorial Coordination: Paola Gribaudo 
Year: 2012
ISBN: 978-8857210629 
Publisher: Skira 
Book Format: Hardcover, 12 1/8 x 12 inches, 300 pages, 185 color plates
Beverly Pepper, together with the two "Louises" — Bourgeois and Nevelson — heads the list of outstanding American women sculptors achieving artistic maturity in the mid-twentieth century.
As her 1998 full-scale retrospective of 70 sculptures and related works at Florence's Michelangelo-designed Forte Belvedere clearly demonstrated, her art deserves being ranked among the most distinctive and overall ambitious bodies of modern sculpture created in the twentieth century. Even in the new millennium Pepper's art continues to be remarkable. And there are several important reasons for its continued impact: its inherent monumentality irrespective of its actual size; notable public presence; and ongoing experimentation with a wide range of media.
Robert Hobbs is an art historian at Virginia Commonwealth University, where he has held the Rhoda Thalhimer Endowed Chair since 1991. He has also been a visiting professor at Yale University from 2004-2011 and has lectured widely at universities in the U.S. and Europe. Recognized as a scholar, teacher, and curator, Hobbs specializes in both late modern and post-modern art. He has curated dozens of exhibitions at important institutions in the U.S. and abroad. His publications include monographs on abstract expressionism, Alice Aycock, Edward Hopper, Lee Krasner, Mark Lombardi, Sterling Ruby, James Siena, Andres Serrano, Robert Smithson, and Kara Walker, and he has also written on Keith Haring, Duane Hanson, Joseph Kosuth, Jonathan Lasker, Malcolm Morley, Robert Motherwell, Tony Smith, Frank Stella, Kelley Walker, John Wesley, and Kehinde Wiley.